I've been gone again... I know, I know.
Adjusting to a new city for a bit was a little tougher than I thought. Good news is I'm back to cooking a lot again, now that I have my own kitchen. I've been making large batches of soups lately which I can dip back into throughout the week for a quick lunch time side.
Here are two recent soups I haven't been able to get enough of.
Chilled borscht

You need:
3-4 large beets
garlic
veggie broth or make your own
lemon juice
brown sugar
salt
for garnish:
dill
cucumber
radish
boiled egg
raw sauerkraut
pepper
I boil the beets after cleaning and trimming them, save the water and then shave them into a new broth combo which is made by adding broth to the water from boiling the beets. The secret is to balance the opposites- you add something sour, so you add another equal part of something sweet. The ingredients above are a launchpad to the possibilities of borscht.
You let the broth cool once the beets are boiled. Add your shaved beets, cucumber, radish, dill, etc. after it's cooled a bit so you don't overcook it all. Let it chill and then once you're down add boiled egg, sauerkraut and whatever other cold goodies for garnish!
Very soon I'll be making a Middle Eastern twist on this dish... Stay tuned.

Orange soup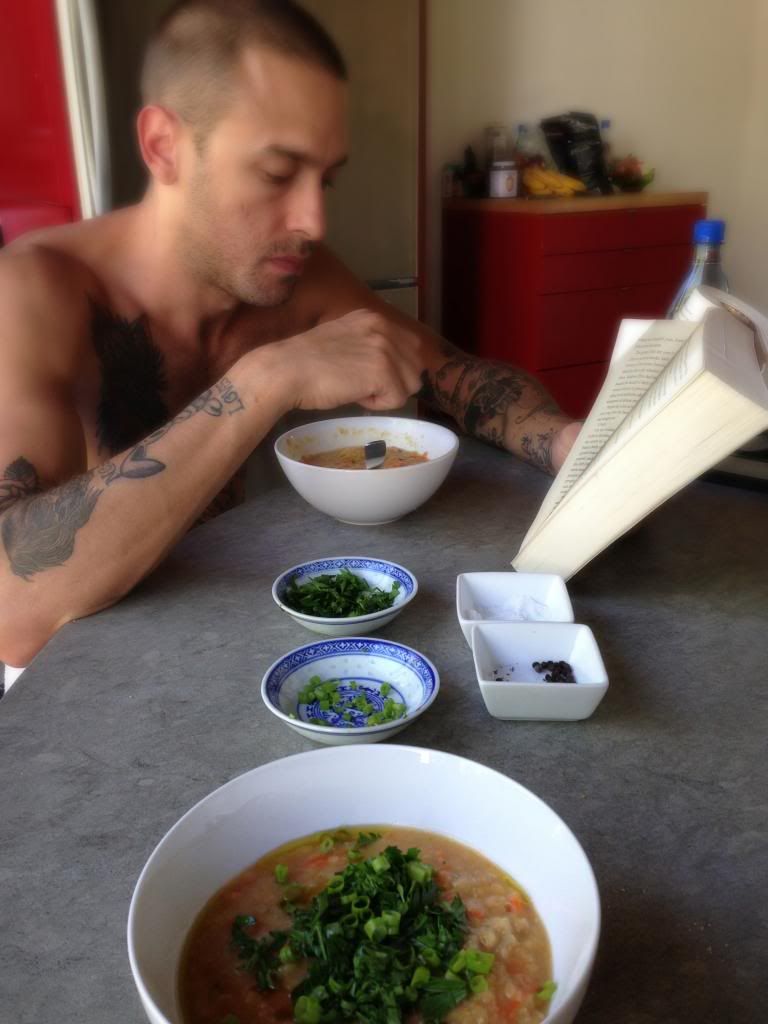 You need:
lentils
carrots
ginger
cumin
onion
garlic
for garnish:
herbs
green onions
This is a random soup that sounds super boring and simple, but I've been eating like crazy.
Boil orange lentils, the mushiest kind, with salt, (1 clove of) garlic, and some ginger slices (not too much because you may wanna add more later). Once they're pretty boiled add more water or whatever stock you wish to use. For about 1.5 cups of lentils I've been using 2-3 carrots and half of a regular piece of ginger. I shave the carrots and ginger into the lentils (so laborious, but worth it), and add some cumin, pepper and sautéed onion and (extra) garlic. I top it off with green onions and other herbs (my favorite being parsley and coriander).