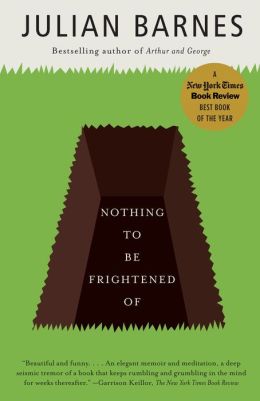 The death obsessed thing never really worked out for me as a teen. I went the hyper, colorful route instead. Although, one of my best friends had the whole gothic teen thing down to a T.
Nevertheless, I still had a relatively angsty adolescence (who doesn't?), which exhausted my parents, but fortunately granted them a relatively normal college-era Annabelle. Then, of course, the tumult resounded shortly after, as these phases go. Well, I've been pretty mellowed out for the last three to four years, so I guess it's time to flip shit upside down and think about death for a while. Upon reading Julian Barnes' Nothing To Be Frightened Of, I was happy to learn that he references some of my favorites from the start... Montaigne, Shostakovitch, Stravinsky... This will be a good ride, I think.

Starting the book in bed last night to Shostakovitch's String Quartet No. 15, with an open window and the supplementary sound of pouring rain, made me forget that I am supposed to be in a terrible mood. Maybe Barnes is onto something... By thinking about death more often, you not only learn how to live, but you appreciate that you are alive.