Our temporary home's retro furniture, the pizza, and the long, dark walks and talks came back to me upon finding this business card while cleaning up a vintage wallet I bought in Rome. We fled a terrible couchsurfing arrangement and ended up in the San Lorenzo area. Driving up Largo Degli Osci we thought to ourselves this could either be a perfect solution or a seriously life- threatening one. Everyone looked stoned, there was trash everywhere as well as tons of graffiti, but in our minds this meant it might be the Williamsburg of Rome and so we confidently and happily walked into the 80s'd out Hotel Laurentia. Motek had a cigarette on the windowsill, and I laid on the bed, happy to be away from the guy we later dubbed Shrimpoe who tried to kiss me in his kitchen after making us an extremely fantastic fennel torte. His cooking was worth the mild sexual harrassment.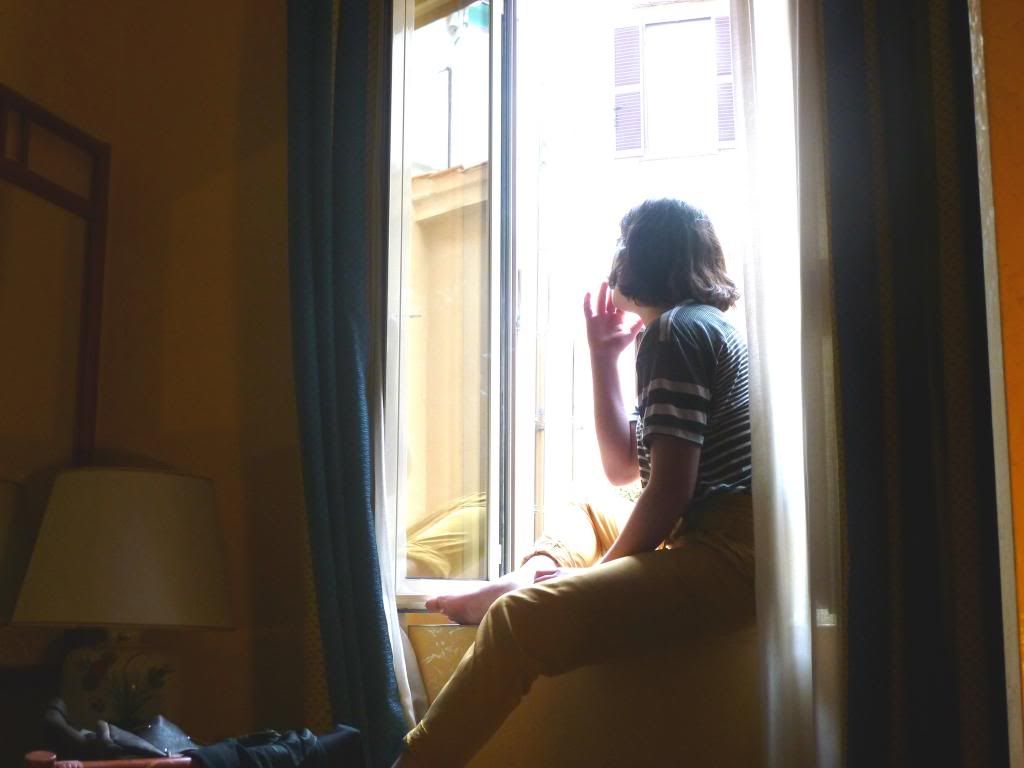 Like throughout the rest of our trip, we were eager to eat and drink. One restaurant nearby, with waiters too busy attending to overflowing customers to wanna try and make out, was a pizzeria called Formula One and it yielded unforgettable fried artichokes and pizza. The other restaurant was nameless and next to a flower shop wherefrom a man gave us long stemmed red roses. They served us a salad that was just arugula, fennel and olive oil. I don't think we even ordered it, but I fantasize about it to this day. The waiter there also tried to make out with me in the restaurant basement below when we came back the next day with our new friend. I might have done it had I drank more wine and he didn't look like a slightly taller Joe Pesci. He told me a ridiculous story about how kissing under arches in Rome is supposed to be good luck. I later googled this myth and obviously found nothing on it.
Let me rewind though. After Formula One, I heard
Johnny & Santo's Sleepwalk
playing somewhere nearby and told Motek we had to find the source. After all, this was one of the first songs I learned how to play guitar, and La Bamba is to my family's cinematic tradition what It's A Wonderful Life is to an American Christmas. We eventually found where the music was coming from, a cozy lounge down the street showcasing three Italian Weezer lookalikes. After the song ended, we decided to stick around for more. The group was called the Yakety Yaks and they were not bad, covering English hits like The Guess Who's
Shakin' All Over
, and a fantastic version of The Ramones'
Do You Wanna Dance?
in which they'd insert their band name wherever possible i.e.
Do you wanna dance with the Yakety Yaks/hold me baby all through the night/Oh baby, do you wanna dance.
So we did that for a while and shut the place down. It was like 1 or 2 at this point, but we restlessly wandered further down to another bar. Motek made eye contact with a guy because she liked his leather jacket. He was cute and ended up liking her leather jacket, so thanks, Acne leather jackets, for introducing us to a new friend and guide.
Francesco showed us around the neighborhood, spotting out places we would have never noticed. We wanted to go somewhere else and he told us about a rockabilly club that was open until dawn. We hopped into his tiny blue car (that we later found out was his friend's) and let this guy take us to Club Rockabilly. This was hands down the best car ride of my life. I've had some nice car rides, too, mostly on California's Pacific Coast Highway. There's the time Bun and I drove back from a party in Malibu scream-singing every single lyric to the Chicago Soundtrack... There's the time I drove down PCH with a boyfriend rapping Mobb Deep in a cheeseball rental convertible at sunset. Then there's the time I drove with my foot out the window on at least four Los Angeles highways for two hours listening to KEarth 101 deciding whether to move to New York or not. No car ride beats Francesco's hoopty. I think now is a good time to mention this guy barely spoke English and we didn't speak Italian. Everytime we asked what did you do today, or what are your interests and things you do for fun, or what do you have planned for tomorrow he'd basically respond with the same thing: I eat.... I drink... I talk and enjoy with friends.
Francesco said he was a singer, and he wasn't kidding. He proceeded to serenade us with U2's
With or Without You
and Oasis'
Wonderwall
. He didn't really know the words, but it was okay... I told him it was "and you give yourself away" and not "and you live yourself the way". He liked the feedback and we liked the free transportation. There is a reason why you need a special permit to drive in central Rome, one reserved exclusively for locals. He looped around the Coliseum about three times without even looking at the road and we nearly crashed a handful of times since he was fond of disregarding street signs, although according to him all was fine and the car was just sensitive to brakes. He remained very concentrated on his crooning, interrupting it every so often with "Relax, I drive all my life here." The club ended up being a great, kitschy time. Of course the Yakety Yaks ended up being there, and I danced with Motek to a lot of Ronnettes and
Shirelles
.

The next day we ended up at a protest since it was Nazi liberation remembrance day. Not so much because we wanted to be there, so much as it was Easter and everything was closed. We made friends with an insanely good-looking posh couple and more rockabilly dudes. I couldn't figure out why or how this craze managed to sweep young Rome, but it's better than Good Humor man mustaches and Blossom dresses so I wasn't mad at it. Neta left three days later after we got back from Sperlonga and I stayed roaming alone... Roming alone. Another man tried to make out with me two days later, and gave me a frog detective I still have on my desk because he thought I looked like a detective with my trenchcoat cape and boar hair hat.